Enterprise Cemetery Software puts all of your cemetery management into one simple solution
CemSites Enterprise Cemetery Software is a full, turnkey, enterprise application software (EAS) solution. We deliver a succinct software solution engineered specifically for your cemetery using our proven, time-tested methods and experience working with cemeteries just like yours. Simply put, we give you everything you need to run your entire cemetery operation better than ever before.
Designed specifically for large cemetery organizations
Our powerful solution gives everyone in your cemetery a better way to work. With CemSites Enterprise Cemetery Software, you have data, accountability, protection, and communication you can rely on.
One source of true data – See everything in one place.
Powerful visual tools – A clean, easy way to see your entire organization.
Personal dashboard – Charts and graphs display all of your critical data in real time.
Accountability – Observe employees' interactions with the system.
Protection – Make better decisions and prevent liabilities.
Communication – Schedule activities, calendar events, and assign work orders with ease.
Access your entire cemetery from anywhere with one click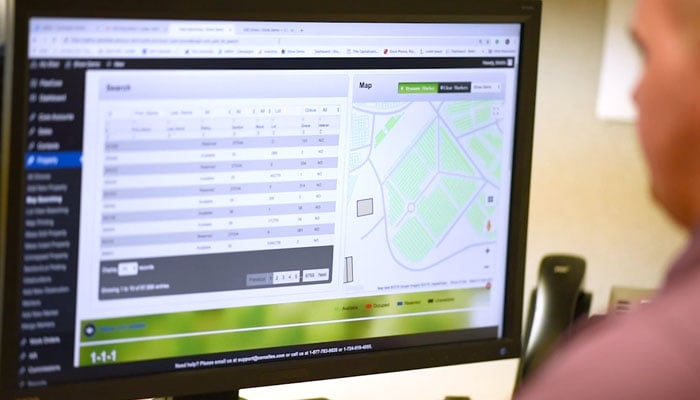 In the current climate, it's more important than ever to be able to work remotely. CemSites Enterprise Cemetery Software is like having your entire cemetery in your back pocket equipped with the most robust cemetery cloud software available in the industry. Our all-in-one system integrates every part of your operations seamlessly.
Record Management – Enter, update, search, and find records in seconds.
Online Mapping –Easily find and manage graves with our virtual and interactive cemetery map. Get a full view of your cemetery grounds and make decisions accurately and quickly.
Walk-To-Site – Visitors can walk directly to their loved one's grave with GPS walking directions on their device.
All record types – Effortlessly add, edit, sort, filter, and report on all records for contacts, owners, and property holders.
Property management – View lot availability instantly, and sell property from anywhere.
Sales management – The only sales software in the industry designed specifically for cemeteries. Schedule events, assign tasks, and monitor user activity. Streamline your entire sales process.
Financial management – Designed for cemeteries. Automates processes, reduces errors and saves you time and money.
Marketing – Capture new leads and promote your services year-round to contacts.
E-commerce – Generate new revenue streams by selling flowers, wreaths, online memorials, etc.
Community engagement – Enable your community to interact with you better, find loved ones, and share content on social media. Increase exposure and awareness of your cemetery to better serve the people of your community.
We provide a perfectly-tailored solution covering your every need
Each partner we have is personally evaluated by our team of experts. Once we evaluate your needs, we create a solution that is tailor-fit to your cemetery. Our expertise in process workflow is what sets us apart, and we are experienced in consulting with big teams. We'll learn what makes you tick and what you can improve, then we work to enhance your operations.
We work hand-in-hand with you during three phases: Discovery, Development, and Implementation.
We provide you with comprehensive training and support with the adoption of our software.
Once you're up and running, you'll receive 24/7/365 support through our industry-first CemCare Partner Support Program.
A CemSites staff member will be assigned to directly support your cemetery.
We are data migration experts with experience migrating every type of data cemeteries utilize. Since 2012 we've migrated nearly 800 million records and 350 million in 2019 alone. No one does it better.