Big software for small cemeteries
Cemetery organizations vary in size and budget, and CemSites understands that cemetery software isn't a one-size-fits-all solution. Our Core Essentials software includes powerful cemetery management tools combined with high-level solutions to help small cemeteries manage and store data securely. Targeted at small cemeteries, Core Essentials includes our digital cemetery record management functionality.
Once you have Core Essentials, it's easy to add mapping and automated work orders to create a powerful solution. Designed for smaller cemeteries that would like to digitize their records and take advantage of mapping capabilities, Core Essentials is user-friendly while maintaining robust computing, searching, and data management options. Visualize and organize grave and owner records, work orders, documents, and more.
We now offer our Core Essentials software packaged in a way that is friendlier to smaller cemetery operations. This core software comes with an automated work order to ensure you don't have to enter data twice and it improves your internal processes. You can add any other add-on modules you choose to enhance the way you run your cemetery. It is user-friendly while maintaining high-end computing, searching, and plotting options. Visualize and organize grave and owner records, work orders, documents, and more.
Remember, you can start out with our core record-keeping software and grow into our mapping and other powerful modules when you are ready. We believe you should only pay for what you need.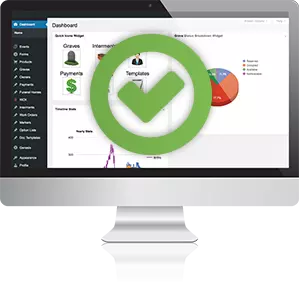 Having a hard time letting go of your paper system?
CemSites is more secure.
What if there is a fire or flood in your cemetery office? You could lose most—if not all—cemetery records and maps, resulting in months of work to rewrite records and remap the entire cemetery. If you use a cemetery information management system like CemSites, you can back up all of your records and control who has access to the data. CemSites software is PCI and HIPAA compliant; all data is kept private and protected from disaster. We also offer services to come on-site and scan all of the records that are important to you and put them all into our system. This way you'll have all of your information in our system from day one.
CemSites is more efficient.
Imagine how much of your time is spent searching through files and papers to find information. Nothing is more frustrating than wasting time on one simple task. Record keeping is user-friendly with easy-to-use dashboards and search tools. It allows for simple, organized input that is customized to your cemetery's needs. With CemSites, users can pull up a record in seconds by simply typing in the name of a person buried in the cemetery. Updating records and maps is quick and easy, and information only needs to be entered once.
We're here to help.
If you choose to go digital, we'll be with you every step of the way. You don't need to be a computer genius to use our software. We'll help with data migration and give you direct access to a trainer to learn the software's ins and outs, then you'll be off to the races, confident and saving time. You'll always have the support of your account manager and a guaranteed 24-hour email response rate to address any questions you may have.
Spread the word and save
Ask about our partner program to learn how you can receive a discount on your bundle by telling others about CemSites.