Modernize your cemetery operations while conserving the natural habitat
We understand you manage memorialization differently than a traditional cemetery. You are focused on a more environmentally sustainable, green, and natural death care service. We have helped many conservation cemeteries with their back-end infrastructure; allowing them to run a compliant business, vastly improve their record management, and generate new revenue streams.
Enjoy managing a beautiful cemetery – driven by state-of-the-art technology
Imagine locating your inventory in mere seconds! Our software allows you to provide customer service crucial to the success of your cemetery. We can help strategize and map out your property in a way that is easy to use. We are experts who understand your unique property structure and will develop custom mapping solutions for you. We even have an add-on Crematory Module if you need one. It's built for the unique workflows and documentation needed to manage cremains.
Visitors can easily locate graves with our Walk-to-Site technology
One unique challenge for conservation cemeteries is that visually, there are no grave markers of any kind. Visitors may require help to find loved ones, that's where we can help! With our Walk-To-Site technology, visitors can search for a loved one right from their smartphone and walk directly to the gravesite.
Visitors can also view their loved one's memorial page while at their gravesite.
We provide custom software created for cemeteries
When you use our CRM, you can be confident it is built based on your unique needs: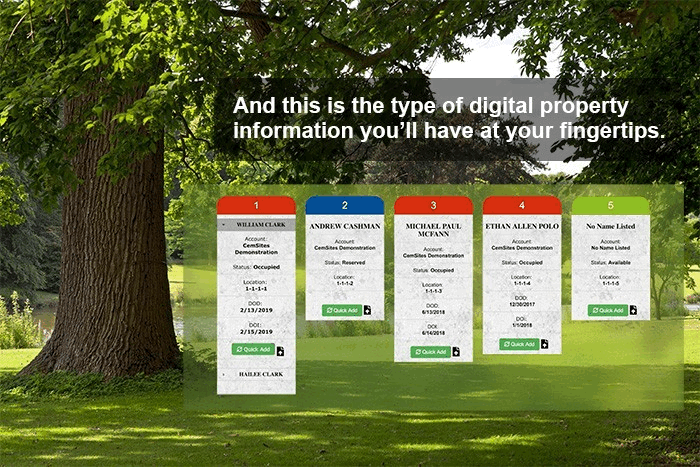 Fully customized software to fit your tasks and workflow
Stunning digital mapping, in a solid structure you easily understand
Quickly locate your inventory, find records in seconds
Add-on Crematory Module built for the unique workflows and documentation needed for cremains
Automate time-consuming processes
Centralized data in one location, so you can work more efficiently
Auto-generate documentation
One-click reporting
Visitors can walk to burial sites using GPS navigation
World-class training and support
All of your data safely stored and backed-up in the Cloud and accessible from any device
You can count on us. CemSites' trusted and time-tested cemetery software.
CemSites software is 100% made in the USA and engineered to the highest technology standards possible. We have clients in 42 states and two Canadian provinces. We create our cloud software specific to you – it is fully customized and flexible, with the ability to add more modules over time.
Our CRM is your solution to help modernize your business and operate more efficiently; automate documentation and manage sales while still conserving the natural habitat.